Chicken and Mushroom Julienne is where the French cuisine meets the Russian cuisine. Despite the name, Julienne is an Eastern European dish, which is made by sautéing a small amount of flour in a hot, dry skillet until it is golden brown and adding clarified butter.
The latter method reminds me of French 'roux' – the traditional thickening agent for classical French sauces and gravies.
Not only flour slightly thickens the sauce, it also gives the dish such a rich taste that you will definitely want to grab some more of that deliciousness.
There are ways to substitute the sauce with a simple Russian smetana or heavy whipping cream.
Ingredients:
Cooked fillet of chicken (I usually boil 1 big chicken. Use half of its fillet for this recipe)
4 oz of button mushrooms (-/+)
1 large onion
8 oz of shredded mozzarella (-/+)
2 Tbsp of vegetable oil
1 tsp of salt (-/+)
1/2 tsp of black pepper
1 Tbsp of flour
1 Tbsp of butter
1/2 cup of heavy whipping cream warmed up for the sauce
pinch of paprika
Directions:
Shred chicken fillet thinly. Wash mushrooms thoroughly, dry them on a towel and cut in small pieces. Not too small! You do want to taste the mushrooms 🙂
Cut onion in thin half circles. Shred the cheese of your choice or simply use pre-shredded cheese from the supermarket. I used Sulguni this time and I do not regret my choice. Sulguni is best if used in khachapuri but it was very good on julienne, too. It is not too salty, soft enough and is made with part skim milk. Once done, set all the preparations aside.
Heat a large skillet with 2 Tbsp oil. Once the skillet is warm enough (medium high heat is well enough) add the onions to the oil and stir couple of times. Add  salt and saute the onions until they turn soft and slightly golden.
Add mushrooms and chicken. Saute for another 5-8 minutes. Add 1/2 tsp of ground black pepper, mix it in well and turn the heat off.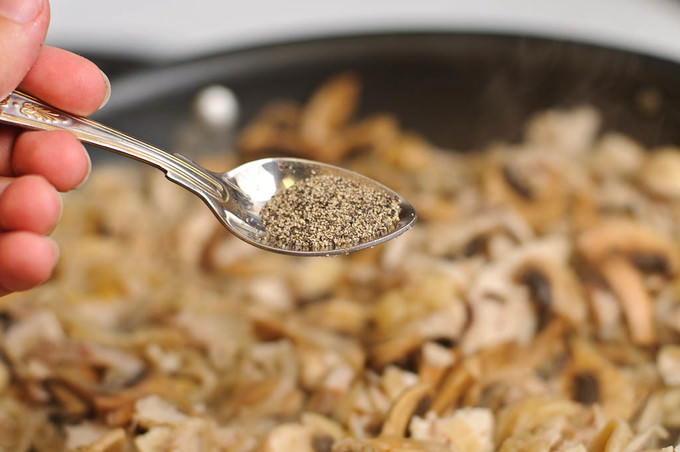 Heat a smaller skillet in order to dry up the flour for the sauce. Make sure the heat stays on medium. Add 1 Tbsp flour and keep on stirring the flour very gently, pressing the flour to the bottom of the skillet.
Once the flour is slightly yellow in color add the butter and melt it by constantly mixing the sauce. Add heated heavy whipping cream to the butter+flour mixture and stir until everything gets incorporated well. It should take more than a minute though. You do not want to sauce or the gravy to get too thick. Should this happen, add a little bit of milk.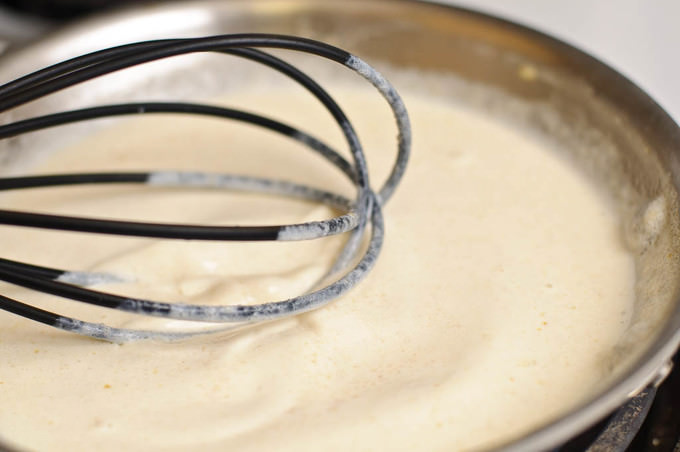 Preheat oven at 350F
Place chicken and mushroom mixture in the ramekins and evenly pour the sauce over each mixture. Evenly distribute shredded cheese on top of the ramekins, sprinkle a little bit of paprika and place all the ramekins on top of a cooking tray.
Bake Julienne until the cheese turns slightly golden brown and it is well melted covering the top of the dish. Serve Chicken and Mushroom Julienne hot. You can have virtually anything as a side dish.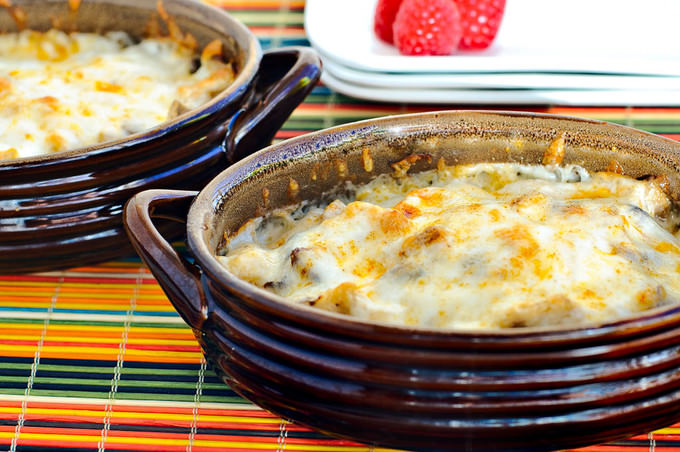 Bon Appetit!